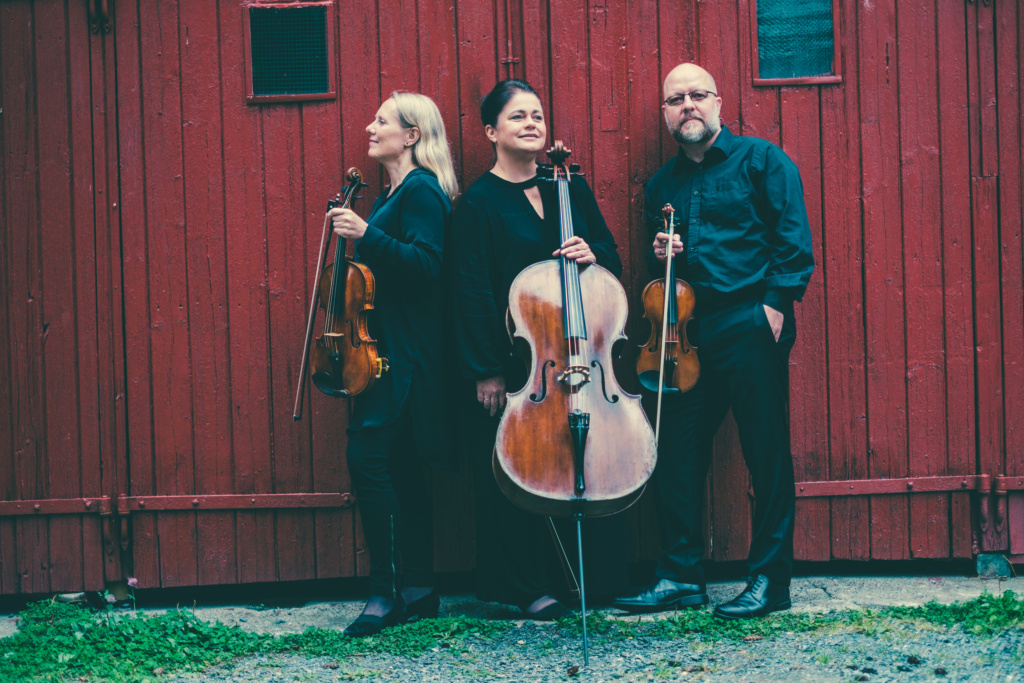 Sølve Sigerland, violin
Henninge Landaas, viola
Ellen Margrete Flesjø, cello
Ssens Trio (pronounced "Essens") was founded in 2014 by three leading Norwegian musicians, each of them with extensive international careers. The trio has worked with important Norwegian pianists like Håvard Gimse and Leif Ove Andsnes and have three critically acclaimed CDs under their belt, all published by LAWO Classics:
Beethoven's String Trios Op. 3 and 8 (2018) did not only receive very fine reviews but was also awarded Pizzicato Magazine's "Supersonic Award" and was nominated for the prestigious ICMA (International Classical Music Awards) in 2018.
Fanfare Magazine wrote: "With absolutely no hesitation I will say that it goes right to the top of my Beethoven String Trios list." (Jerry Dubins).
The CD of Mozart's Divertimento, K563 (2019), too, was very well received in French Classica, American Fanfare Magazine and Pizzicato Magazine, that is published in Luxembourg. The CD was nominated for the important Opus Klassik Award in Germany in 2020. The recording has been visited by more than three million listeners on digital platforms.
Their latest CD "Ricercare" featuring twentieth century Norwegian string trios of Kvandal, Mortensen, Bræin and Palmar Johansen appeared in 2022 and was high-ly praised in Gramophone and KlassiskMusikk. It received the Supersonic Award in Pizzicato Magazine, and The Strad wrote: "These are all very well-judged performances that bring out the individual characteristics of each composer." (Matthew Rye).
Sølve Sigerland has appeared as a soloist with leading North European orchestras with conductors such as Andrew Litton, Daniel Harding, Leif Segerstam and Walter Weller. In 1993 he represented Norway in The Nordic Soloist Biennial in Stockholm, and in 1995 he was a laureate of The International Tibor Varga Violin Competition in Sion, Switzerland. Throughout his career he has had a strong focus on chamber music. Besides his work with the Ssens Trio he was also a founding member of the prize winning Grieg Trio.
Henninge Landaas is currently a violist with the Oslo Philharmonic Orchestra. Earlier on she toured the world as a member of the internationally recognised Vertavo Quartet. With their extensive repertoire comprising works of Carl Nielsen, Brahms, Bartók, Grieg and Debussy, the Quartet won several international awards including the prestigious Diapason d'or in France. Shre has also published a number of CDs for the LAWO Classics label, including the two Brahms sonatas and "The Golden Hindemith". Henninge Landaas plays a J. B. Guadagnini viola, generously put at her disposal by Dextra Musica.
Ellen Margrete Flesjø founded the Grieg Trio in 1987 together with Sølve Sigerland and pianist Vebjørn Anvik. With that group she has given concerts in Europe, Asia and the US. The trio has recorded for EMI, Virgin and Simax Classics, and their CDs received excellent reviews.
The Grieg Trio won prizes such as the Parkhouse Award in London, 1st Prize and two secial prizes at the Colmar International Chamber Music Competition in Frankrig as wel as prizes and awards in their native Norway.
From 2004 to 2009 she and her two colleagues of the Grieg Trio were artistic directors of The Stavanger International Chamber Music Festival.
Granvig Artists is exclusive representative of the Ssens Trio in Europe – except Norway.
To book the trio, please send en mail.
---