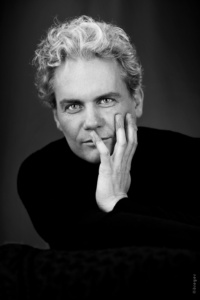 Excerpts of reviews of Pål Eide's CD "Grey Clouds"
"He could play in any major musical capital and win the enthusiastic approval of audiences" (Huntley Dent)
"He has a way of getting inside the music to elucidate the extra-musical imagery behind the notes." (Jerry Dubins)
"What really puts this version up amongst the greats is the "Scarbo", amongst the most purely musical on disc." (Colin Clarke)
Excerpts of reviews of Pål Eide's debut concert
"Eide played with fire, frolic and a richness of contrasts that lured a wide pallette of colours out of the new grand piano in the Concert Hall of The Royal Danish Academy of Music." (Ursula Andkjær Olsen, Berlingske Tidende)
"After Rachmaninov's Sonata No. 2, one was left gaping and gasping for air. Eide appears to have complete mastery of his instrument. He is a true wizzard at the piano and it is going to be intereswtering to follow him over the years."(Jakob Wivel, Jyllandsposten)
BIOGRAPHY
Mr Eide was born in Bergen, Norway, but moved with his family to Kristiansand when he was 8. In 1990, he left his native country to study the piano with Tom Ernst and José Ribera at The Royal Danish Academy of Music in Copenhagen. He made a highly successful debut from the soloists' class in 1997 with an awe-inspiring program (Beethoven's "Waldstein" Sonata, Ravel's "Gaspard de la nuit" and Rachmaninov's 2nd Sonata). He pursued his studies in Mosow with Tatjana Nicolayeva and Naum Starkmann and later with Jiri Hlinka in Oslo. Since then, he has given numerous solo recitals – mainly in Scandinavia.
The release, in 2017, of Mr Eide's CD "Grey Clouds" comprising music of Liszt, Ravel, Debussy and Stravinsky led to a regular international breakthrough with rave reviews in European and American Music Magazines. "Grey Clouds" is being played on classical radio stations in 15 countries.
A recital at the world famous "Louisiana Museum of Modern Art" shortly after the release of the CD was broadcast by Danish Radio and also drew much attention to this rare artist.
Mr Eides 2019 calendar include performances of Grieg's Piano Concerto in November in Russia and a solo recital at the Rued Langgaard Festival in September in Ribe, Denmark. This recital will be broadcast by Danish Radio. Furthermore, Mr Eide will appear as "Pianist of the Week" at the Edvard Grieg Museum Troldhaugen near Bergen, Norway in July.
Mr Eide recenty recorded selected works of Grieg together with a few contemporary piano pieces and Mussorgsky's "Pictures at an Exibition" on Grieg's own Steinway Grand at the Edvard Grieg Museum Troldhaugen. The CD will be released in 2019. During the recording session, a video documentary was made, too, describing how Grieg's works has influenced contemporary music.
Since 2000, Mr Eide lives near Copenhagen with his Danish family. His likes film and literature and enjoys cooking for friends and family. Having a background as a top level swimmer, he is still a frequent guest at the swimming stadium, and hiking in Norway with his wife and three daughters is also high on his list.
REPERTOIRE
Important focus points in Mr Eide's repertoire are music in the great Romantic tradition as well as contemporary music. Beethoven's piano sonatas, too, are very dear to him, and on the occasion of the 250th anniversary of the composer's birth, he offers a Beethoven-only program comprising the "Waldstein" Sonata and the two last sonatas Opus 110 and 111. Finally – and one is tempted to say "of course", when it comes to this Bergen-born poet of the keyboard – Edvard Grieg's piano music is very close to Mr Eide's heart.
---
Suggested Programs for 2019-20
Solo recitals
"Piano Pictures"
Edvard Grieg: "Folkelivsbilleder" ("Scenes of Country Life", Op. 19
Edvard Grieg: Selected Lyrical Pieces
Harald Sæverud: "Kjempeviseslåtten" ("The Ballad of Revolt")
David Monrad Johansen: "Nordlandsbilleder" ("Pictures from Nordland")
Jesper Koch: "Forstandens spejl" (dedicated to Pål Eide)
Modest Musorgskij: "Pictures at an Exibition"
This program was recorded on Grieg's own Steinway Grand Piano at the Edvard Grieg Museum Troldhaugen and will be released on CD in 2019.
Beethoven 250 years
Sonata No. 21, Op. 53 "Waldstein"
Sonata No. 30, Op. 110
Sonata No. 31, Op. 111
Concertos with orchestra
Edvard Grieg: Piano Concerto in A minor
Dmitrij Sjostakovitj: Piano Concerto No. 2
Ludwig van Beethoven: Piano Concerto No. 5 in E flat major, "The Emperor"
Johann Sebastian Bach: Piano Concerto No. 5 in F minor
Johann Sebastian Bach: Brandenburg Concerto No. 5
Wolfgang Amadeus Mozart: Piano Concerto No. 12 in A major
Joaquín Turina: Rhapsodia Sinfonica
Maurice Ravel: Piano Concerto in G major
Sergej Rachmaninov: Piano Concerto No. 2
Antonin Dvorák: Piano Concerto
Dmitrij Sjostakovitj: Piano Concerto No. 1
---
Granvig Artists is the exclusive representative of Pål Eide in the Nordic countries (Denmark, Norway, Sweden, Finland and Iceland) og non-exclusive representative worldwide.
Please send an email, if you wish to book Pål Eide for a concert